Update: Brides Take Caution
The Rose Tree has responded to our Better Business Bureau with false statements. See the original post with photos and the full story here.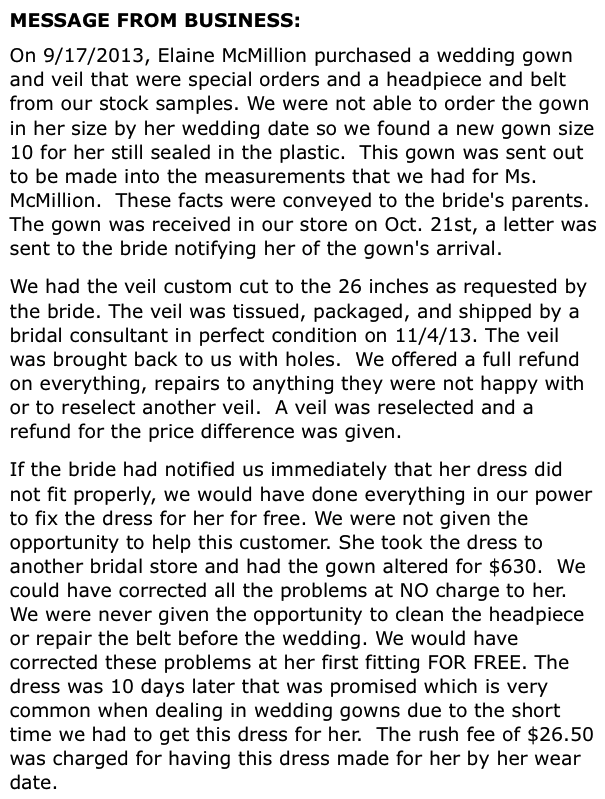 STATEMENTS:
1.) We were not informed we were buying a "stock-sample" headpiece and belt. They told us they were ORDERING it.  If we would have bought stock-sample why wouldn't they have let us take it home that day? We walked out of the store with nothing in our hands and under the assumption that we were paying full-price for new, not used items. If they were stock samples we should have been given a discount.
2.) We were NOT informed they could not order my wedding dress. IF that was the case, why didn't they tell us? Instead, Amy literally said, "We can order this dress in your size, no problem!" She proceeded to measure me and "confirm the order" on the phone. I assume she was faking the conversation.
3.) That dress was not a new gown. It was dirty, needed cleaned and steam and had the same snags on it that the dress I tried on had. IF it were a new dress and IF they would have told us they were ordering a size 10 to be cut down, I would have canceled my order. That is 10 SIZES to big for me, what boutique would think this was a good idea? IF it were a new dress and they would have informed us why would they cut the "1" out of the size "10" dress tag inside and scratch the "1" off the tag. I will be demanding Rose Tree show us an invoice and order history with the company to prove this claim.
4.) To say that the veil came to us with no hole in it is a complete lie. Why would we put stress on ourselves and drive over two hours to replace the veil a week before the wedding? The veil had a hole in it, stop lying. More pictures of the horrible packaging can be seen below. And yes, the veil WAS the wrong length.
5.) They DID NOT offer a full refund on EVERYTHING. We have an audio recording of this conversation and will release it, if need be. All they offered was to replace the veil, which we accepted. They denied any issues with the dress.
6.) I have heard enough horror stories about The Rose Tree alterations that I would never let them touch another dress. Why would we bring a dress that they already messed up back to them? We had less than 3 weeks until the wedding and they had added enough stress. I took the dress to the best seamstress in town and she was able to save it.
7.) There is full proof that the boutique did not order a dress. It's very clear they took the floor-size 10 model and altered it. Charging us a rush fee is fraudulent.