Brides Take Caution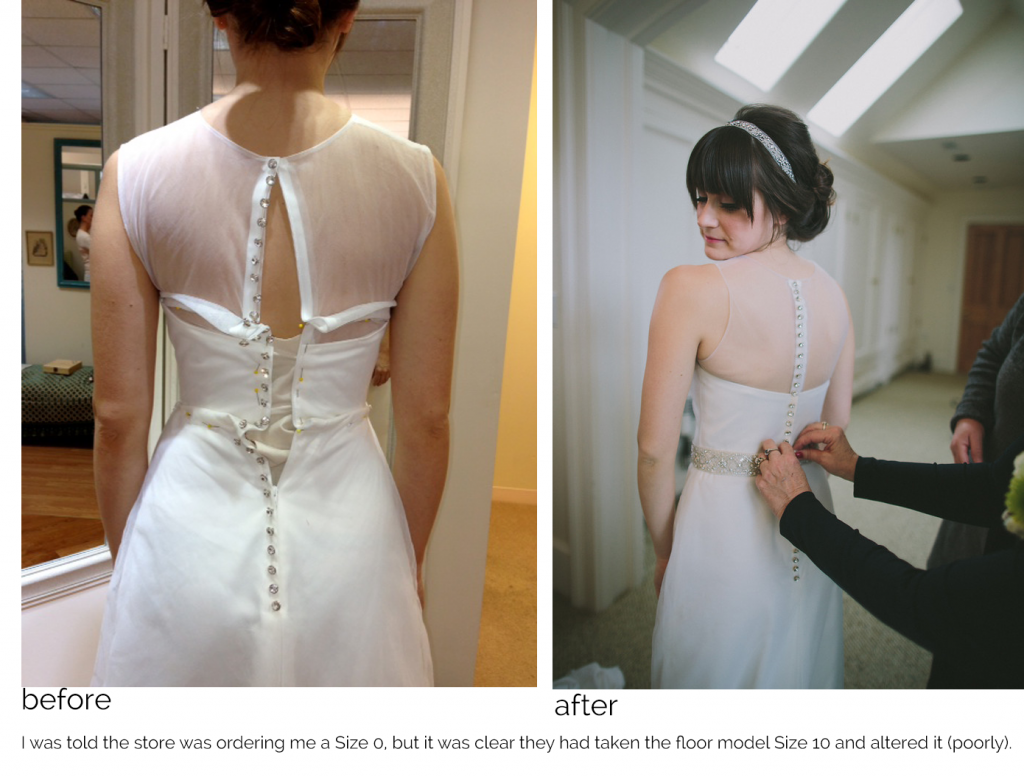 Readers note: This is a special post concerning a specific issue that needed to be brought to the attention of brides. This blog isn't about weddings, it's about finding vintage items. Visit my other posts (to the right and below) for regular posting.
1/8/13 Update: Rose Tree has deleted their reviews and comments section from their Facebook page. Please visit Yelp to add your story and review.
The Rose Tree Bridal Boutique, located in Ceredo, West Virginia, was completely dishonest in our transactions with them during the fall of 2013. Purchasing a wedding dress and accessories from Rose Tree resulted in having to spend nearly $1,000 to fix its mistakes. The Rose Tree claimed it was ordering a Size 0 for my wedding (in a dress we later found out isn't made in a Size 0).
After a late arrival (and being charged for rush shipping) the dress did not fit, and it became very clear that they had taken the floor-model Size 10 dress and altered it. The dress had to undergo $630 in alterations to be wearable. The veil came with a hole in it, and we were sold a used floor-model belt and headband for full price. We have discussed the situation with the personnel, but they refuse to refund any money because we did not take the dress back to them immediately. But why would we? We knew they were being dishonest about the dress the whole time.
I am providing specific details below. Do yourself a favor and do not do business with this boutique.
Costs:
• We paid $308.00 for the dress and now have a $639.00 alterations fee plus a $26.50 rush charge
• We paid $480.00 for a veil that had a hole in it and ended up with a $280.00 veil because we couldn't get the veil we ordered (they reimbursed us $200.00 but not without prodding).
• We paid $306.00 for a used belt with a set missing that had been used on the floor. The Dressmaker's Closet altered and repaired the belt.
• We paid $352.00 for a headband that had makeup all over it because it had been used on the floor. The Dressmaker's Closet altered and repaired the belt.
September 10, 2013:
We visited the Rose Tree to shop for a wedding dress. I found a dress in the store but it was a Size 10. Amy, the assistant, took clips and fitted and pulled the dress to show me what it would look like if it were a smaller dress. I was measured, and a Size 0 was ordered. We were told the dress would be in by October 10, 2013. They said they would call when the dress came in.
October 15, 2013:
Days after the dress was supposed to be in, and still no calls, we were getting worried about the dress coming in on time, so my mom and I emailed a couple bridal companies that carry the dress and inquired about it. Our first question was, "Does it come in a size 0?" Their reply was, "This dress only comes in a 2" (red flag). We asked Rose Tree about this, and the saleswoman said she didn't know the specifics of the order but that I would probably get a Size 2 and they would have to alter it.
October 21, 2013:
The dress arrived, 11 days late.
October 22, 2013:
My mom went to pick up the dress while I was out of town. They brought the dress up front and hung it up in a clear bag, not an actual manufactured bag from company. Everything was there except for the veil. The cashier told my mom the veil was at the alterations shop (red flag: this meant they were giving us a floor-model for full price). She was told we had to pay a rush shipping charge on the dress. She brought the dress home and inspected the dress, there were loose threads between the tulle and lining. A day later, I arrived back in town and tried on the dress. It did not fit like a Size 0 or 2…it did not fit at all.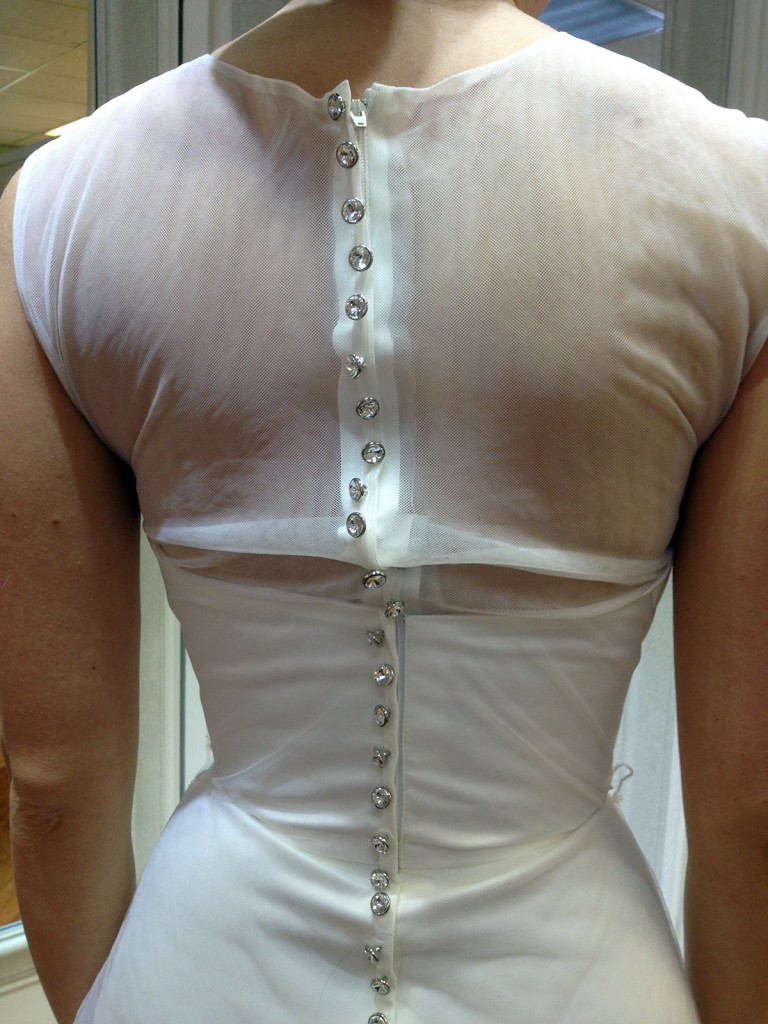 October 27, 2013:
Due to our time constraint and lack of trust with Rose Tree, we took the dress to a reputable seamstress in Charleston. Julie Wirts, owner of The Dressmaker's Closet, told us that there were obvious signs this was a Size 10 cut down. The "1" on the Size "10" tag was cut off to appear as a Size 0. The "1" was erased from the paper tag hanging off the dress to look the same way. The entire bodice of the dress had to be refitted with new fabric. Additionally, the belt was missing a jewel, and the headpiece was stained with makeup from people trying it on in the store.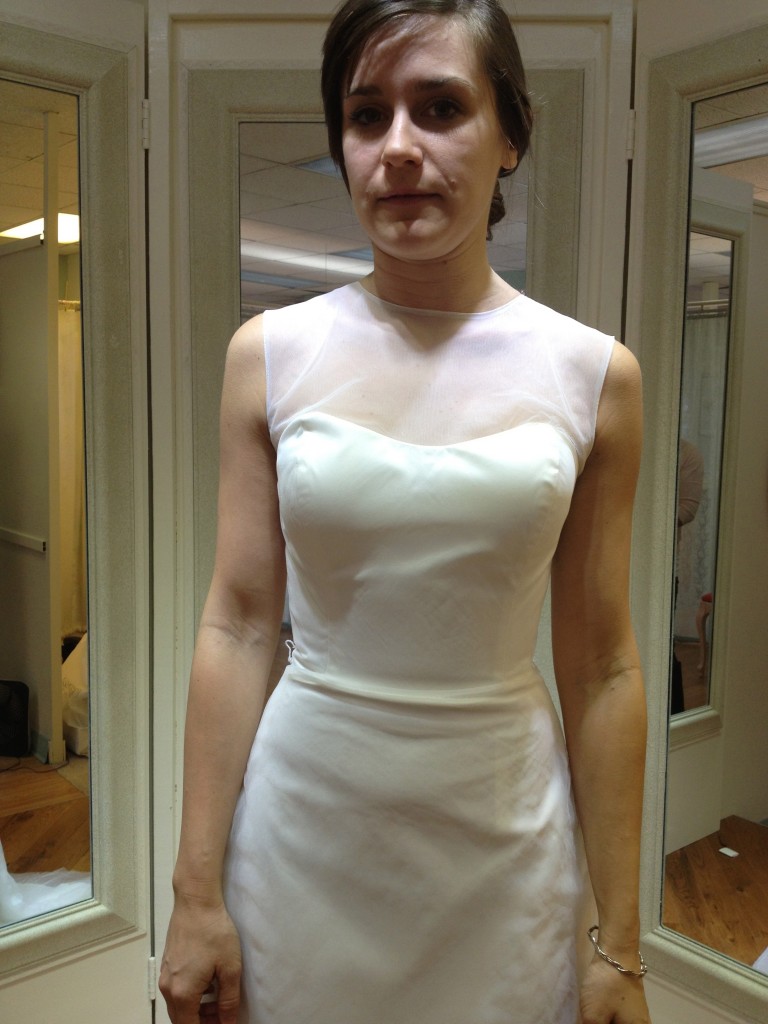 The bustline of the dress was obviously a Size 10, not a Size 0.
The waist had been altered to a 24-inch waist, but the back was left as a Size 10. It was clear this was not a manufactured Size 0.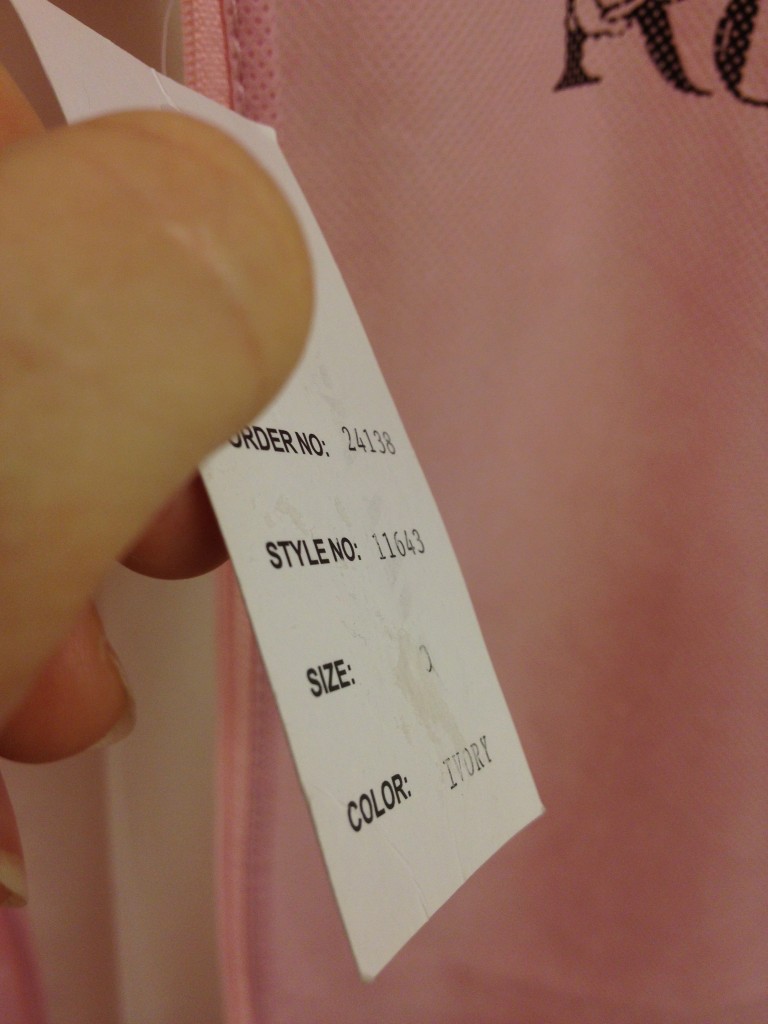 The "1" from the "10" was scratched off the ticket to make it appear as if this were a Size 0.
The back and shoulders were huge. All this fabric had to replaced with new fabric.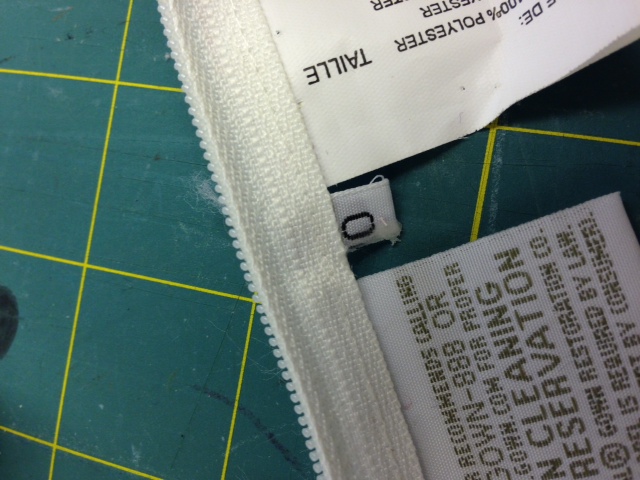 This is honestly the most bizarre part of it all: They literally cut the "1" out of the Size "10" and left the "0."
November 6, 2013:
I received the veil via UPS. There was hot glue visible on the comb area, the length was wrong and there was a huge hole in it.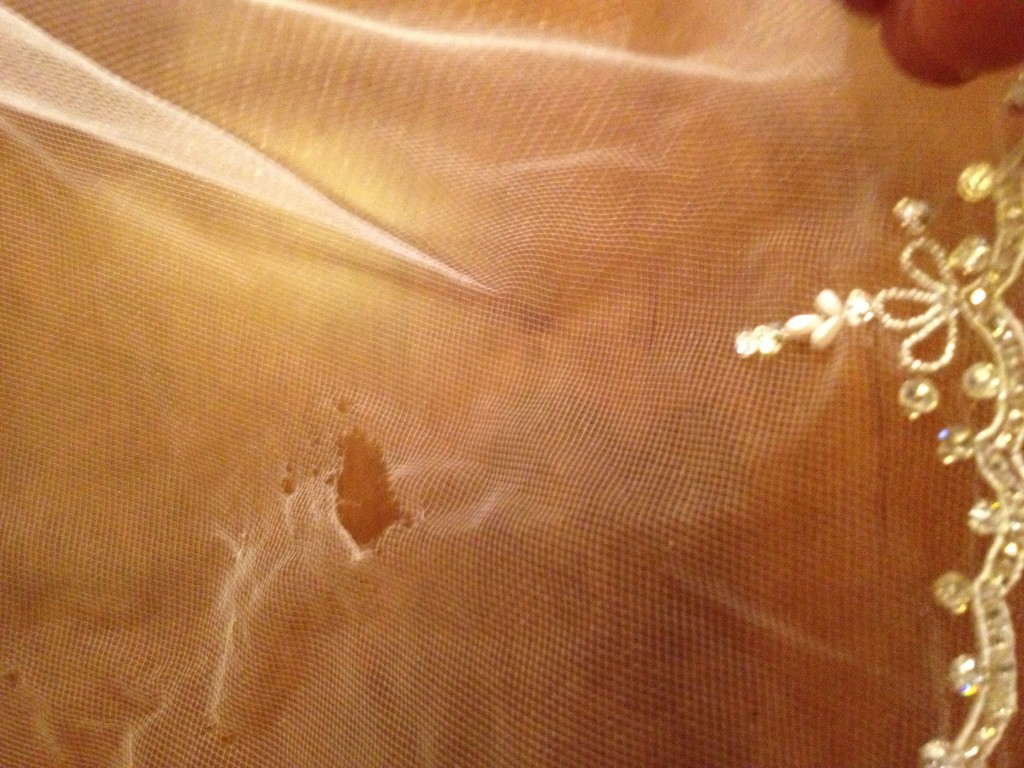 November 7, 2013:
The next morning we went to talk to the manager (Debbie) of Rose Tree. We showed her the veil with the hole in it and said we wanted our money back. She asked if we wanted to look at the veils that they had in the store. We found a veil similar to the style of the original veil. She steamed the new veil in the back and brought it out to us. I asked her how much the veil was, and she said, "I don't know, I threw the tag away." I said, "The one I brought back was $480.00, and I need to know how much this one is." She came back and the veil was only $280.00. I told her I wanted my account credited for that amount. We then told her we have bigger problems and proceeded to tell her about the dress.
 ***
All this is to say: think twice about giving business to this boutique. My experience with them caused alot of unnecessary frustration. We lost alot of money in this process and we don't want you to do the same.
If you have had a similar experience with Rose Tree please rate them on Facebook, Yelp and help spread the word.
Thanks so much to Julie at Dressmaker's Closet for fixing this mess (this is not the first, Rose Tree dress she has had to repair). I don't know what we would have done without you. Wedding-day photos by Rachel Rowland.
This is my personal account with the boutique. 
***
TAKE ACTION
After posting this, I was shocked by the number of people who also experienced  issues and commented on my Facebook post. PLEASE share your experiences below and on the following pages:
Wedding Wire (Rose Tree reviews page)
Rose Tree's on Facebook (they have removed their reviews section due to the overwhelming amount of posts)
WV Weddings (to alert other brides)
Rose Tree on Yelp (all negative reviews are hidden here)
UPDATE:
Rose Tree responded to our complaint to Better Business Bureau with misinformation.
Please read and share.